About Us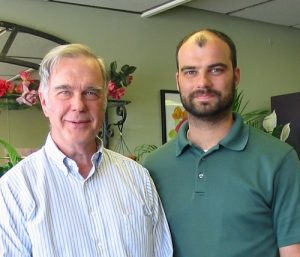 Jim and Tim Ludwig
The Ludwig family is proud to be celebrating our 5th generation in the flower business in Pittsburgh!
Our goal is to offer the best in quality, value and service for all your floral gift needs. Most of our flowers are grown and shipped directly from flower farms in South America, allowing us to provide the freshest flowers available, with no extra middle-man mark-ups.

Customer service is always our number one priority. Our customers like our "go the extra mile" service. We try hard to accomodate special requests and rush deliveries.


Our Guarantee
We have a 100% satisfaction guarantee. If you are in any way dissatisfied with our product or service, please let us know within 24 hours, or as soon as possible. We will do our best to correct the problem by replacing or exchanging the product, or adjusting or refunding your purchase price.
Check out our reviews on Google and Yelp.

Our Hours

Monday 8:00 AM - 4:30 PM
Tuesday 8:00 AM - 4:30 PM
Wednesday 8:00 AM - 4:30 PM
Thursday 8:00 AM - 4:30 PM
Friday 8:00 AM - 4:30 PM
Saturday 8:00 AM - 2:30 PM
Closed Sunday




We accept the following credit cards:



7% sales tax is added to all orders.


Substitutions
Occasionally, due to the seasonal availability of flowers, we may need to make substitutions to what is pictured in our photos online. We make every effort to maintain the "look and feel" of the floral arrangement chosen, with an eye to colors and style, substituting with flowers of equal or greater value.

Our History
The Ludwig family was in the flower business as far back as the late 1800's when E.C. Ludwig (Jim's great-grandfather) had a flower stall in the Market House in Allegheny, PA (Now Pittsburgh's North Side.)
Our founder, Ed Ludwig, established Ed Ludwig Flowers in 1929, as one of the first tenants in the new Koppers Building in downtown Pittsburgh. (Ed's brother, Deforest, had been a charter member of FTD.) Ed served as FTD president in 1955.
Ed's son, Jim Ludwig Sr., joined him in the business in 1947, and the business name was changed to Ed and Jim Ludwig Flowers. Over the years, Jim served as regional director of FTD and president of Interflora.
Jim, Jr. joined the company in 1975. Over the next years, the business expanded into the North Hills of Pittsburgh, first to the McKnight-Seibert Shopping Center, and then into Northway Mall. We became known as Jim Ludwig's Blumengarten.
In 1990, Jim Jr. and his wife, Linda, purchased our current building in Pittsburgh's Strip District. It was originally intended to be a centralized hub and offices for our other stores. However, during the '90's we found that the economy of one centralized location suited the logistics of the flower business quite well. After 70 years downtown, we moved out of the Koppers Building, and we now have only this one location.
Our Strip District store puts us in a unique position to serve our customers. The Strip District is centrally positioned for city-wide delivery. We are located close to floral wholesalers and suppliers, and can often fulfill the special requests of our customers on short notice. Low overhead and large warehouse space in our current building allows us to provide value pricing in all our products. We have adequate space and large walk-in coolers to accommodate flowers for any holiday or large special event.
In 2006, we were fortunate to have Bob Ludwig join our business. (Bob is a distant cousin of Jim, as their grandfathers were first cousins.) Members of Bob's family were florists on Pittsburgh's North Side since the 1880's. In September of 2006, Bob closed Ludwig Floral Company on East Ohio Street, and joined our company. He brings with him over 50 years of floral experience.
President Tim Ludwig, son of Jim and Linda, grew up in the floral business, working part-time in the shop through his high school and college years. He joined our company full-time in 2009, after graduation from the University of Dayton.
Our friendly staff looks forward to hearing from you and serving you!